2021 IABC/BC Annual General Meeting
6:00 pm - 7:30 pm
Online event
June 14, 2021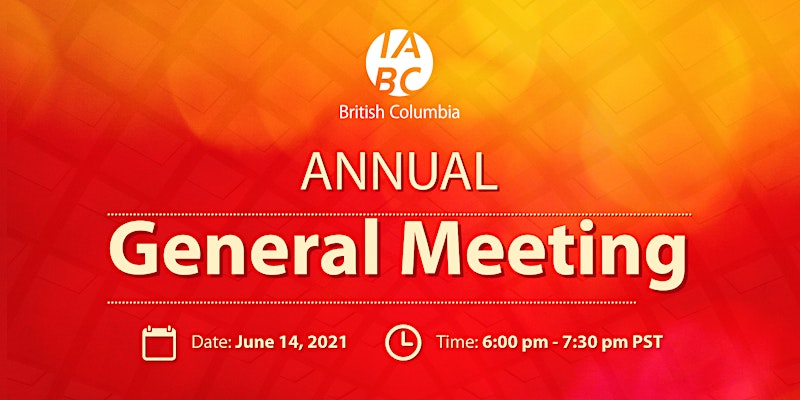 Join us for some vibrant virtual conversation at the 41st IABC/BC Annual General Meeting. 2020-21 has been an unparalleled year for all of us and has brought many challenges, but it has also encouraged creativity and innovation in how we connect with one another.
We look forward to introducing our new chapter Board slate, led by incoming President Jose Vargas, and comprised of dynamic leaders from diverse industries and professional roles. Also providing an overview of the chapter's activities, finances and achievements and answering any questions from our members. PLUS we will be launching the official 40th Anniversary timeline which will provide a trip down memory lane at the impressive legacy of our chapter.
We miss chatting with you! So we're including a casual virtual social where we can connect in small groups to relax and celebrate the start of summer together. We can't wait to see your faces.
Schedule
AGM Program: 6 pm – 7 pm Pacific Time
Virtual Social: 7 pm – 7:30 pm Pacific Time
Review our AGM documentation
Questions about the AGM? Please email executive [at] iabc.bc.ca.
More details to come!
Register Now