Health Delivered: Telling an Industry Value Story from IABC Greater Cincinnati
9:00 am - 10:00 am
Online
February 17, 2022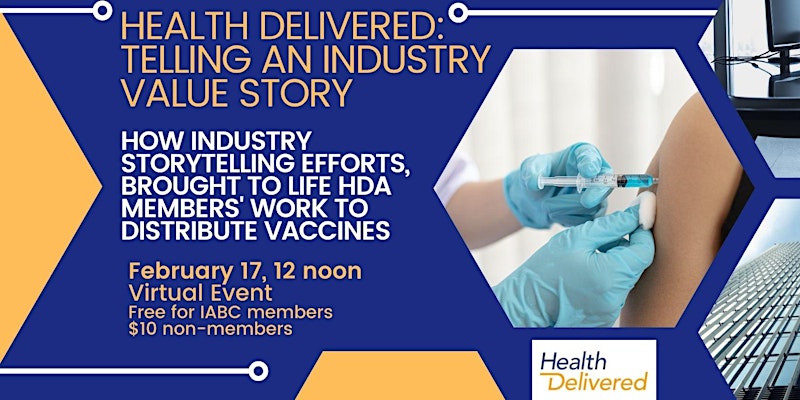 John Parker and Farah Simonett of the Healthcare Distribution Alliance share best practices for storytelling campaigns.
About this event
The COVID-19 response brought the importance of the healthcare supply chain to the forefront. With a renewed sense of urgency around raising the distribution sector's profile in Washington, D.C., and other factors, the Healthcare Distribution Alliance (HDA) took their communications efforts, and their industry, to a new level. HDA, the national association representing healthcare distributors — the vital link between 1,500 manufacturers and more than 180,000 providers — launched Health Delivered, a multiyear, multichannel campaign that pulls back the curtain on a little-known, yet critical sector.
In this session, you will learn more about HDA's Silver Quill Award-winning industry storytelling efforts, which bring to life HDA members' work to get vaccines, medicines and medical supplies to the right place at the right time under turbulent circumstances. You'll gain insight into how the team raised the industry's visibility with policymakers and other key audiences — using research to inform their strategy — and importantly, the lessons learned through the process.
About the speakers
John Parker has more than 20 years of healthcare communications experience in Washington, D.C., at the intersection of policy and business, while working for three high-profile trade associations and a Fortune 25 company. As HDA's Senior Vice President of Communications, Parker oversees HDA's strategic communications and marketing programs.
Farah Simonett is a seasoned strategic communicator and creative with more than 15 years of experience in not-for-profit healthcare and membership organizations. As Vice President of Editorial and Internal Communications, she serves as HDA's primary copywriter and eagle-eyed editor (among her many other roles) and is passionate about communicating to audiences across a range of mediums.
Register Now