Life beyond graduation: the journey after the degree
5:30 pm - 7:00 pm
Online
May 17, 2022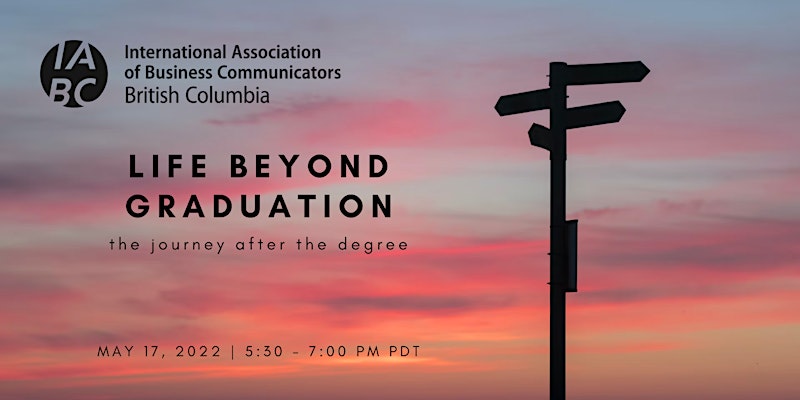 While we can't make these decisions for you, the unique stories on this panel could help illuminate a path that might be right for you.
About this event
Join us for an event tailored for new communicators, but essential for everyone in the field.
Finishing a degree, certificate or credentials in Communications and related fields is a huge feat and opens the door to what can be an overwhelming amount of opportunities. Where do you start and how can you get to your dream job?
Do you dive head first into your independent hustle? Do you pick up industry knowledge within a bigger company? Or do you somehow find the time to balance a mixture of both. Ultimately, it is up to you.
Hearing from our panelists you will learn about what they wish they knew when they started and if they would have done things differently if they did know.
Hear from our diverse panel
Maycko Macapugas
Maycko holds a BBA from the Beedie School of Business at Simon Fraser University. Finishing with a focus on Accounting and Management Information Systems, he made a pivot started his career in events and event management and developed internal communications skills to increase team efficiency. While early in his career, he has worked to refine communications skills within small, but growing times.
With the pandemic, his documentation of his mental health journey through his plant page @foliagefilipino on Instagram has presented a brand new world of communications and marketing to him. Transferring skills from his day job, Maycko has been successful in communicating his journey and building a following of over 10 000 in just over 19 months. With eyes on him, he's now facing new challenges in the world of external communication. Knowing others look to his stories and experiences for guidance for finding pride in their own heritage, he faces the hurdle of turning this into a viable business.
Rosetta Cannata
Rosetta Cannata is a lifelong storyteller and a well-rounded communications professional with 25 years of experience in a variety of industries. She has extensive expertise in every part of the communications shop including internal communications, media relations, strategic communications planning, reputation, events, publications and digital. One of her favourite parts of the job involves providing strategic communications advice to leaders so they can achieve business objectives. She loves it when communication helps employees and stakeholders better understand an organization's vision and contribute to it. She's thrilled when people outside her organization say they understand and are committed to something her workplace is trying to accomplish. Past adventures have included working at Fraser Health, the Provincial Health Services Authority, TELUS and Vancity. She's currently the associate director of Communications and Marketing, for the Office of the Vice-President, Academic at SFU.
Third Speaker TBA
Key takeaways include:
Gain a tangible perspective on your next career steps
Understand different applications of business communications
Gain insight on how you move towards value-driven career paths
Register Now